Here is yet another outstanding video /song by the super gorgeous, underrated, talented artist from Blackburn (Lancashire) Finally, people are recognizing her potential.
The opener of the 'Strange' video is a depiction of an angel and heavenly kind of metaphor, mixed with a good and evil ritualistic feel, where the emphasis of the song is "don't give your love away" make of it what you will.
We love it 10/10 for this one.
Such a deep deep video, and well produced, hats off to the producers etc (C) 2014 Harvest Records'.
Having gone through a turmoil of events and record deals, it seems now she has found her place, and her feet have finally landed firm!
Recently she's been doing a lot of touring including festivals such as 'T In The Park' nicely building a new fanbase as well as keeping the avid fans (such as myself) happy.
If you wondered why the OC and what does it mean? Well she was formerly known as Charlotte O'Connor and my favourite from her previous album was 'Shine On' this song had a beautifully crafted video of her singing sat on a window ledge (some may remember it) her style was of a playful nature and stunning pop vocals. I miss 'Shine On' video so dearly now 🙁 most if not all her previous videos have gone from the face of the cyber planet, however things happen for a reason and we must move on (ahhhm tells myself).
Saying that I can say safely that the new songs / videos that have been emerging are, if not her best work to date, showcasing her maturity and how far she has actually come as an artist. My personal favourite is 'Colour My Heart' taken from her latest EP 'Colour My Heart' check this video out too, also available on vinyl (I got it 🙂 ).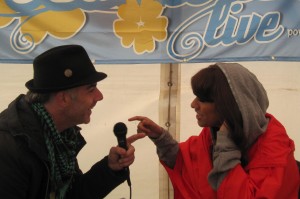 You may already love her or about to fall in love? If you don't, then her latest video for the song 'Strange' should do the trick.
Also if you want to know a little of her life and history then check out our interview from 2 years ago, in the link below.
For our interview with Charlotte back in 2012, click :: HERE
Charlotte OC Facebook :: https://www.facebook.com/CharlotteOCOfficial
Twitter :: https://twitter.com/CharlotteOC
Website :: http://charlotteoc.com/ YouTube :: https://www.youtube.com/CharlotteOCOfficial
Soundcloud :: https://soundcloud.com/theoneandonlyoc