Corrina Taylor 'KAIROS' EP available now!
If you missed our artist of the month back in May 2015 where have you been!
We'd like to introduce the very talented artist 'Corrina Taylor'
The Brighton based singer / songwriter has more than just music in her blood, she's the kind of person you look up to. When we heard of her debut EP release we got excited!
Corrina works extremely hard to achieve her goals and dreams. She's an artist who believes that connecting with her followers / supporters in a personal way is so important (including the odd randomness of leaving copies of her music on trains and other random places, with little 'post it' notes) She isn't one who simply self promotes, she's more about keeping her music real and adding that human touch in her own unique way & let us tell you it works! A kind of back to basics attitude.
'KAIROS' tells a story in such a personal, honest and open way, it's like she's an open book; letting go of all her emotions through the lyrics in her songs. This EP is a long time coming but let us assure you it's well worth the wait (as is love) everything in life is a lesson and a step forward!
Her honesty, dedication and determination to follow her dreams and ambitions is truly inspirational and is undoubtedly felt throughout the whole EP.
May 2016 Corrina released her debut EP 'Kairos'. So much has gone into this EP even the title name has relevance. KAIROS (n.) The perfect, delicate, crucial moment; the fleeting rightness of time and place that creates the opportune atmosphere for action. words or movement; also, weather.
'Kairos' EP is a prime example of life, love and the challenges that we face when falling in love, or simply dreaming about the desire to be with someone who's right there in front of you yet they don't see you.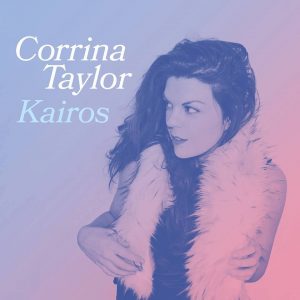 The opening track 'Make You Mine' and featured video here expresses truly heartfelt vocals and melodies, and is a piano led track.
To us 'Make You Mine' is simply beautiful, it speaks about a desire for love. This track expresses a yearning, longing and hope that together they never give up on the love that feels right, yet it seems it's just a fantasy or a crush. You know the type, one sided kind of love.
'Red Light' is such an easy listening uplifting track. Jammed packed with fresh bubbly sounds, it brings feelings of excitement when listening to it. A perfect track for the summer where a brand new love is found. You know the one, when you fall in love with someone and have butterflies in your stomach each time you receive a txt from them or upcoming meal date etc. Sadly the conclusion to 'Red Light' is a reality check and the realisation it was all just a fantasy.
Moving on to our personal favourite on the whole EP is 'Your Illusion' this track picks up the pace a little and gets the heart beating, it's the feet tappin kind. It's a wonderfully produced track (as is the whole EP). When we heard this we pictured a couple dancing on the dance floor with a partner, showing off all their best dance moves.
'KAIROS' can be downloaded and is available on CD and we 100% recommend that you get yourself a copy right after you have finished reading this and watching the video below. This will be a fiver well spent and something you can appreciate over and over again. At the same time you can smile knowing you're supporting a fantastic artist.
Track Listing 1 : Make You Mine 2 : Your Illusion 3 : Red Light 4 : Paper Hearts 5 : Hopeful Romantic (Live)
DOWNLOAD 'Kairos' ::: HERE
TWITTER :: HERE
FACEBOOK :: HERE
SOUNDCLOUD :: HERE