A few weeks ago I was introduced to 'THE JCB' and also been graced with a signed copy of their album.
Now at first we thought oh this looks like a heavy rock album with the title 'CITADEL' and the font used, how wrong was we.
We love live music, Keys, Bass / Guitars, wind and string instruments etc with 'The James Clode Band' we're blessed with them all, such a beautiful combination of fused sounds.
'The JCB' are based right here in Cardiff Wales and describe themselves as a contemporary folk rock band (almost right with the rock bit).
The band consists of 9 members. It's apparent when listening to the album you can tell they have a lot of fun when performing together and love what they do.
'THE JCB' are a breath of fresh air, they're what you and I call a real band.
I love how they all work effortlessly together to produce some outstanding tracks such as 'Rise And Fall' the opening is a string piece (got me already) quite theatrical in its sound.
The vocals effortlessly blend in, carrying you through to the end with backing vocals to harmonize it all. 'Rise And Fall' is one of my favorite tracks on the album 2nd to 'I'm No Hero' and 'This Life's Drums' almost had me in tears.
I'm feeling a similar vibe like the massive hit by 'Semi sonic' 'Secret Smile' back in 2009 I think it was.
As with most bands you can see they work hard and are dedicated to bringing you (The listener) great music but also great live performances. You heard the phrase 'Eat, Sleep and drink music' no neither have I, but I'm sure I'm not far wrong.
Moving on to track 3 'Hold The Phone' this is a little more downbeat but you can't help but feel alive. Each track has so much going on it's like having that cake and eating it, such a delight to the ears.
Actually I ain't stopped playing the album for a long time, it's one of them that grows on you as time passes unlike some music, after a few plays goes to the back of the list.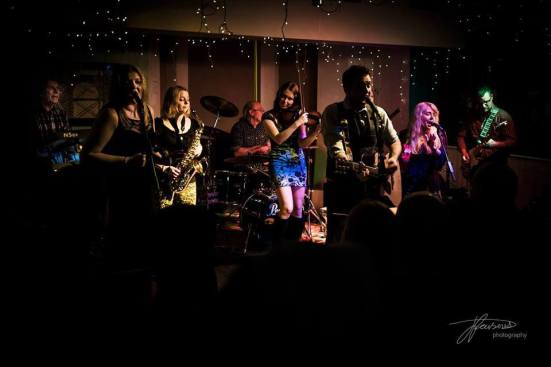 If you get the chance to see them live, I recommend you go. Please follow the links below for more details about the band.
I can tell you they're performing at one of my favorite festivals 'Wakestock' in the beautiful surroundings of North Wales July this year. Also they can be found at the 'The Globe' 'ROATH ROCKS' in August to name just a few.
I haven't had the opportunity to see them live, but when I do I'll guarantee it'll be electrifying and energetic. We'll be the ones at the front getting our groove on.
The video is an acoustic live session without the full band.
Be sure to check out their YouTube link below.
'CITADEL' is filled with many elements of sounds that are beautifully merged together. Each track has an elegant feel to them, bursting full of vibes.
Be it because of the violin or the saxophonist or guitarist? whatever it is that makes this an absolute pleasure to listen too, it works and works well.
'CITADEL' is a wicked debut album crammed full of delights, one I'll be returning to over and over.
The final result is they have a nicely crafted easy listening album. 'The James Clode Band' are what festivals and live music nights are made for.
Watch this space.
Facebook :: https://www.facebook.com/whitehallparade/
Soundcloud :: https://soundcloud.com/james-clode
Twitter :: https://twitter.com/JamesClode
YouTube :: https://www.youtube.com/channel/UC42pz0kSQ0SrgIX0bLS1c2g/videos