Ok, this is exciting for us.
We're so happy to introduce the talented 'Anna Straker' with her new video '

One Lover

'.
We've believed in 'Anna' since she came to our attention way back in 2012 and still do. We first heard of her when she released a cover of an already featured artist here 'DELILAH'.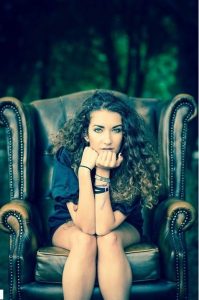 Delilah thought Anna's cover was so good she shared the video 'Love You So' on her official twitter.
Anna has such conviction in her songs and bags of power, her voice / style just grabs you. She's set for a huge future, even if she don't know it herself yet.
Italian born, London / Lincoln based 'Anna Straker' is no stranger to live performances and has many already under her belt.
At 18 years old she has the musical maturity of a number one artist who's been in the industry for many years. She's got a natural ability to produce pitch perfect, smooth and haunting vocal tones. Don't be fooled, Anna has a dark side and she has no problem packing out a powerful vocal range you just don't expect. This is why we love Anna because of her diversity and uniqueness.
Not only does she write her own songs, she also plays guitar and piano (Beautifully may we add). Also she partakes in the production of her own music.
Anna is already making waves in the music industry, if we're not mistaken she also did backing vocals for the huge 'RUDIMENTAL' 2012 hit.
Exciting times lay ahead for this lady and she's sure to be hitting the UK airwaves some time in the near future.
Enjoy below her song 'ONE LOVER' be sure to #Follow #Like her social media pages to keep up-to-date in the links below.
If you haven't heard of 'Anna Straker' before you have now. All the proof you need is in the video below.
Twitter :: HERE
Facebook :: HERE
More videos :: HERE