Here's some news we're excited to announce! A second album from the British singer 'Gabrielle Aplin'
On May 18th Gabrielle announced her second album will be titled 'Light Up The Dark'.
Her debut album 'English Rain' released 2013 features the number one smash single 'The Power Of Love' and her 4th single she's well known for 'Home'
English Rain has been certified Gold in the UK for selling over 100,000 copies. [Wiki]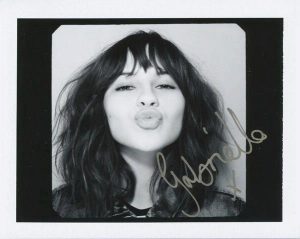 The album 'Light Up The Dark' is available to pre-order now, scheduled release date September 18th 2015. If you pre-order the album now you'll be able to instantly download the title track 'Light Up The Dark' not only that, there is a spanking new video for the song below.
Her journey started from an upload via YouTube back in 2008, with a cover of 'My Heart' by Paramore. Since then there has been no stopping her. She signed to 'Parlophone Records' February 2012.
Gabrielle Aplin is the founder of her own successful label 'Never Fade Records' "In May 2013 Never Fade Records released 'Escapade', the debut EP from Nottingham based indie act Saint Raymond. Escapade sold over 20,000 units and led to Saint Raymond catching the eye of several record labels before eventually signing to Asylum Records in August 2013. Hannah Grace, a Welsh singer-songwriter who previously supported Gabrielle on tour was the third act to release her music through Never Fade".
"It's been a long time coming but I'm FINALLY able to announce that my second album is called 'Light Up The Dark' By pre-ordering you'll receive the title track Light Up The Dark instantly. Be sure to check out the music video too!
I'm so excited to be back! Gabrielle x" (Source : official Facebook).
Official Facebook :: HERE
Website :: HERE
iTunes :: HERE
Twitter :: HERE