This amazing young Lady 'old nu-folk singer songwriter' is a hidden Gem found in the quiet surroundings of South Wales.
She has been singing and playing various instruments for many years and embraces life with both hands. With her Debut EP 'Tower Blocks' already under her Belt, working on Her new EP due for release later in the year it's just the start for this young Lady.
With many Beautiful self-written tracks such as 'Circles' and 'Milky White' (Featured live on Radio Cardiff 98.7 fm) you'll soon find you want more, if you like 'Lisa Loeb' 'Jewel' 'Jodie Marie' or 'Gabrielle Aplin' (also featured on Dwfmedia) then you will love 'Chambles' (Carys Elen Jones).
Tell me about the name Chambles? I used to wear Babycham shoes and my friends just called me Cham or Chambles.
Name some of your fave artists. I used to listen to Buddy Holly, Chuck Berry, then moved on to Nirvana, Bob Dylan and Laura Marling, and some more main stream artist's, oh and Gabrielle Aplin she's so beautiful and I love her music and how she does so much for her fans. They influence me & my music, I love how they all put across their ideas and their emotions through music.
Tell me about the track 'Every Part of Me'? Its about a mixture of different emotions into one song, its about reaching for your dreams, the lyrics is quite self indulgent and I was feeling 2nd best to some people and so I put it forward in to this song, it's also about someone who was contemplating suicide. My 1st song I ever wrote was the one I'm most emotionally attached to 'TOWER BLOCKS'.
WOULD YOU CONSIDER BEING IN A BAND? I've had a taste of being a lead singer in a band but I didn't want to be the main focus and because I'm quite shy didn't' feel that was right for me, it was a Led Zeppelin covers type of band. I enjoyed but it wasn't for me, I had to do something else and put forward my ideas in my own music its one of the bravest things I've ever done. I'm really enjoying every moment of it, so many opportunities and it's so exciting; sky's the limit.
ALSO YOU'RE A GREAT ARTIST, DO YOU FIND ART AND MUSIC INSPIRE EACHOTHER? Yes they definitely tie in, I put forward every emotion into it, they're both very emotional forms of art. I don't often show my emotions, I find it a way of conveying exactly that kind of thing.
HOW LONG HAVE YOU BEEN SINGING? Quite young but it's been a long journey, I was really crap singer when I was little, but I put my mind to it, I focused on working hard at it. Other people have also encouraged me over the years including my friends and family.
Have you had a good response? Oh yes I had a great response so far. I've played at a lot of gigs, had media interest and I featured on The Capital's Radio station 98.7fm where I performed 3 of my Tracks; and I've supported many music events through Wales.
CAN YOU REMEMBER YOUR 1ST SOLO GIG? It was about 2 years ago, At Milkwood Jam in Swansea it was a open mike night and I just went for it and I really enjoyed it.
Your most memorable performance? Borderline London back in March 2011, it was amazing the best audience, considering the main band everyone was there to see was lively folk punk.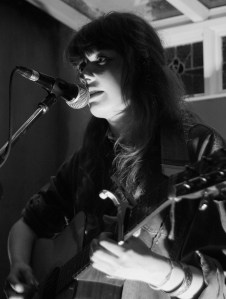 DREAM LOCATION TO PLAY? The Albert hall, I love the acoustics they're amazing.
IF YOU COULD TIME TRAVEL WHERE WOULD YOU GO? I'd like to go back to Jane Austen era, the romantic era. I'm studying William Wordsworth in school, romantic poets have influenced my lyrics a lot, also the 60's.
WHATS LINED UP FOR THE YEAR 2012? Gower Rock festival, I was going to Small Nations but it's been canceled, loads of dates will be added on my website soon. I'm mid way through recording my next EP, I'm focusing more on that this time.
WHERE HAVE YOU PERFORMED SO FAR? I haven't done as many as I would have liked to because of school. So far I've played Milkwood Jam, Borderline London, Tin Shed Experience in Laugharne, every pub in Llandeilo,York, Leicester, loads in Swansea and Carmarthen.
FINAL WORDS: Don't knock yourself down even when you feel like it, be realistic and think about all the great things that come from it, if you really try anybody can do anything. Just remind yourself that whatever happens it's part of life's rich tapestry and you will reach some obstacles but keep going and have fun and do whatever you want to do, and thanks to all who have supported me.
Facebook: Carys elen Jones
YouTube: Contrarychambles
Soundcloud: Carys Elen Jones
Contact: chamblesofficial@gmail.com